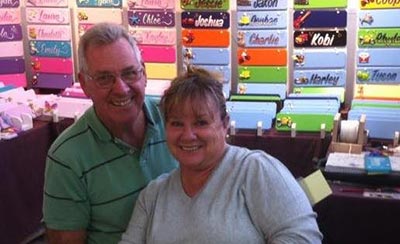 If you are looking for a fantastic gift for a family member or friend, don't race off to the shops. All you'll find there is average products that are far from one-of-a-kind. Your loved ones are special people in your life; therefore, they deserve unique gifts.
At Sea Bream Gallery, Ann and Ron specialise in creating customised plaques that are designed to suit your likes and preferences. These plaques are hand painted and hand crafted in Australia. Plaques are available in a range of colours, styles and designs, and your plaque is destined to be one-of-a-kind.
Unlike what you'll find in mainstream shops, at Sea Bream Gallery all of our products are affordably priced and can easily be shipped overseas! Sea Bream Gallery plaques can be customised to suit a variety of special occasions. From birthdays to engagements, Sea Bream Gallery can create the perfect statement piece for any event.
We invite you to take some time to explore our website and learn more about the various plaques that we can create. On our site, you'll find many examples of our amazing products. Next time you're in need of a fun and unique gift idea, we hope that you consider Sea Bream Gallery.